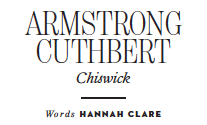 From the curb, Amstrong Cuthbert is a subtle and petite looking salon set back from the main Chiswick High Road. Inside, it's spacious, warm and light, and the lovely smell of Aveda invites you to relax, unwind and take some time to pamper yourself.
I am planning a drastic change for my hair and after a brief consultation, Victoria shares my enthusiasm. She offers just the right amount of advice: encouraging and knowledgeable but not too bossy, so I retain the feeling that it's my ideas we're working with.
But before she actually starts any cutting I am invited for an Aveda ritual, a procedure designed to encourage you to relax still further. Tempted by a choice of different, gently scented oils I choose a de-stressing blend for this set of neck, shoulder and hand massages. Needless to say, it is bliss and defifnitely changes the experience from a run of the mill haircutting visit to something more indulgent and luxurious.
Having entered the salon with long, rather unruly, weighed-down hair, I emerge with a fresh 1920s type style that frames my face well with loose, healthy curls. Armed with handy quick tips for fuss-free styling offered by the competent and experienced designer throughout the session, I'm confident I'll be able to keep the look without too much effort of my own – exactly what I wanted from a trip the salon. Our verdict? It's a thumbs up for luxury and lasting results.
Hannah Clare
Such lovely service from start to finish. Clean, well decorated independent salon with a beautiful, fresh smell from the wonderful Aveda hair care products.
Megan P.
Armstrong Cuthbert has everything going for it – a nice, calm environment, pleasant and personable staff, and Aveda products. Oh, and that lovely smell of Aveda when you walk in the door. Heavenly! There was no wait time when I arrived for my appointment and everything thereafter ran with precision. I walked out of the salon about 90 minutes later, split ends and pesky grey hair and happy!
Camie T.
Armstrong Cuthbert thrives on its independent, boutique appeal. Located on sunny, family filled Chiswick High Road, the salon is friendly with a welcoming buzz. Flourishing from word of mouth recommendations, it has become established as one of Chiswick's most popular and highly regarded salons.
When seated, I surveyed the crowd and could see how the clientele varies, their professional and experienced knowledge of hairdressing unsurprisingly attracts all ages. If you live in Chiswick you must try Armstrong Cuthbert, and if you don't you now have a reason to visit this quaint area of London.
Thoroughly Modern Millie
I recently went to this hairdresser to get a hair cut and was very pleasantly surprised! The decor is very nice and the environment relaxing. It was the first time washing my hair was not a torture, as the chair is very comfortable and it even has massage! Katrina, the lady who gave me a hair cut was very nice and did a very good job. I certainly recommend this place and will go back! 5*
Graziela T.